Wholesale Book Repair
"If you love your books ..."
$20 - $60 per book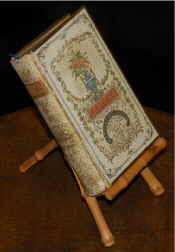 I am a frugal person, and naturally expect others to be as frugal as myself. I also have found that the most efficient way to work around the drying times of various adhesives is to treat a stack of books as a single project, working them in tandem. Therefore I reserve my most modest rate for working in this manner.
      The following criteria apply:
1)  The customer sends me 10 or more books at one time, specifying this service for the lot. Alternately, the customer sends me fewer than 10 books and I deposit them in the 'IN' basket until 10 have accumulated.

2)  I prioritize the necessary mechanical repairs and perform them in sequence, endeavoring to limit the time spent to the $20 - $60 range. Most will fit into this range.

3)  Should a given book exceed the $60 limit I will break off work (having already performed the more serious repairs) and query the customer for authorization to continue, as the remaining work falls within the next level of service.      
Some examples of repairs included in this level of service:

split inner or outer hinges repaired
loose pages
tears mended (within reason)
pencil marks
stains or smudges cleaned (somewhat)
cracks - some signatures split from binding (not excessive)
frayed/loose cloth (not excessive)
partly separated hinge
loose spine/covers tightened up
scotch/masking tape removed (as possible)
 
      Sorry, but nothing much can be done about foxing, water damage, brittle paper, warping, fading, or smell. any attempt to address these 'necessary evils' must be referred to a higher level of conservation.