Rare Book Conservation
Higher end literature...
$60 - $160
      This level of full restoration should be reserved for higher end literature destined for the collector market, or volumes of special interest and sentimental value. The rare and collector market is highly competitive as to the condition of the binding and overall shelf presence. This level of care can be expected to greatly enhance the investment value or sale price of the book, not to mention the inherent delight and pride of the owner!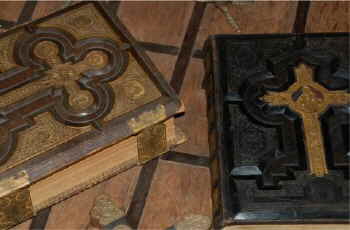 In these cases the condition of a book takes on a more perfectionist quality, and a higher degree of time and care is required. There are no lower-priority repairs or cosmetic enhancements that might be sacrificed to economy, and more serious repairs may be attempted. Greater care is taken to maintain the original integrity and appearance, and greater effort expended in the reconstruction of remnant materials. Cleaning becomes a priority, and some attempt at addressing such necessary evils as brittle paper or ink marks might be made.
Some examples of the more serious repairs involved at this level of service:


leather spine replacement (covers still attached, old spine slumped or torn)
excessive cracks - every signature split from binding (binding over 1" wide)
remount loose or missing tipped-in illustrations
corners repaired (including cloth, leather, or metal corner)
brass edging (in the case of extremely worn cloth/leather board edges)
spine/ front cover labeling:
     - primitive (hand-lettered)
     - old titles reattached as paste-down (if possible)
     - new gold-on-black label
library marks/pockets removed (as possible)
headband/tailband replaced
spine head/foot restored or capped
protective acetate or jacket protector
jacket restored (as possible)
Rare Custom & Exotic Fine Bindings