Fine Bindings
Rebinding
$100 and up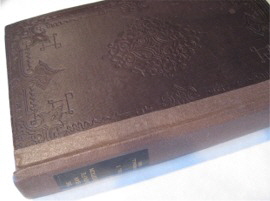 At Curious Lore Book Conservatory rebinding is offered as a last resort, when conservation alone cannot achieve the desired appearance and proper degree of mechanical functionality and longevity.
    A full rebind becomes necessary should the boards of a book become detached, or if they are so damaged as to be considered unrepairable or undesirable. When the integrity of the binding of the text block is compromised such that it becomes split into two or more sections, then rebinding is indicated. (This is not to be confused with cracks, where the individual signature becomes separated from the binding but the binding remains whole.)
     Curious Lore also offers the custom hardback binding of paperback literature, in which your favorite paperback may be converted to hardback. This process significantly extends the longevity of a book as well as the appearance. Paperback conversion is generally economical, and most often falls well below the minimum cost indicated above.
Three styles of rebind are offered, listed in order of cost:

1) Custom
     The custom rebinding of a given style book involves the quickest and most economical means to an end suited to the needs of that individual book. Each project is treated in a focused and unique way, involving failure analysis and reverse engineering of the original binding to determine the most expedient and functional method of rebind. The objective is to improve upon the original binding in a way that upgrades marketability and shelf presence while minimizing cost. This usually results in a half-leather style with corner protectors.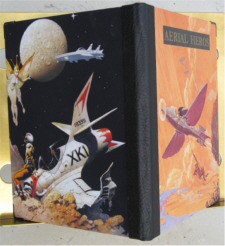 Aerial Heroes - a complete modern rebind; pictoral  
covers, black leather spine, metal corner protectors, gold-on-black  titles
2) Fine Art
     Essentially the same as custom rebinding, except that less traditional and more exotic materials and techniques are used. Books rebound using this method become individual and unique works of art manifesting unsurpassable shelf presence. Such rebinds can be tuned to the customers' preferences and make wonderful gifts and keepsakes. A unique and beautiful binding can only enhance the enjoyment of a book. See Leatherworks.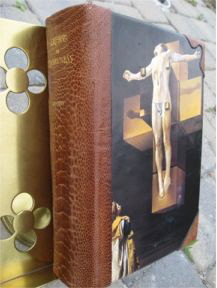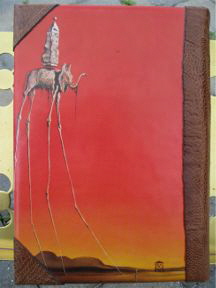 Light Into Darkness - The Adventures of Missionaries (1893)  
by Godbey. An art rebind of an old work of significant  
anthropological/historical value. As the original cloth covers were  
beyond salvation, modern Dali pictorial boards exemplifying the  
'light' (Christ on the cross) and the 'darkness' (stilt-legged  
elephant on red background) were used along with a spine and corners  
in light brown ostrich leg leather, one of the toughest and most  
highly-figured leathers known.
3) Traditional
     Preserving the look and restoring the structure and finish of antique materials as much as is practical and possible, resulting in a close resemblance to the original but  mechanically sound in all the essentials. Full cloth or leather covers, compartmentalized spine, and traditional papers are the hallmarks of this style.
The Turner Gallery (above left) refurbished original boards,new super, cords, and compartmentalized leather spine

Biographia Dramatica (1812) (above right) - full rebind in period style,
3/4 calf and marbled paper.